Rooftop Sky Lounge
From Pool's Closed Wiki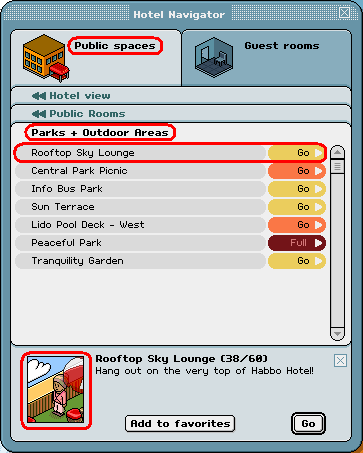 This room no longer exists or has been redesigned significantly. Page is kept purely for historical purposes.
Summary
Rooftop Sky Lounge is a room in Habbo US that is supposed to be the top of the hotel. It is usually crowded pretty well. Another room that got closed due to AIDS-Contamination.
Directions
Rooftop Sky Lounge is located in Public Rooms -> Parks + Outdoor Areas.
NPCs
Skye, a greasy Mexican (or somewhere around there) that serves you up her AIDS-contaminated, hometown-made coffee.
Notable Features
The center of the room leads into an inside area, where the NPC is located.
How to close Rooftop Sky Lounge
Note: The following guide is only included as historical reference. It is no longer possible to /b/lockade most rooms on Habbo.

Rooftop Sky Lounge takes a minimum of two nigras to block just the inside area, and requiring five nigras to block the entire room.
Room Entrance - five nigras needed.
Inside Area Entrance - two nigras needed.