User:BlackBro9001
From Pool's Closed Wiki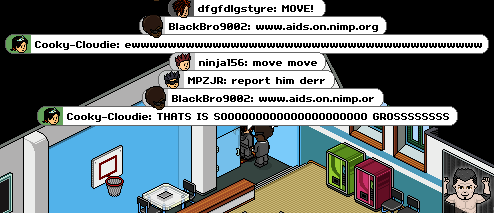 The average habbofag to nigra agruement:
Habboe: plz mve
Nigra: POOL'S CLOSED DUE TO AIDS!!!
Habboe: bobba U!
Nigra: THIS IS FOR YOUR OWN SAFETY.
or
Habbo: plz mve
Nigra: Why?
Habbo: My dadd is the ownr of habbo!1!1111!!
Nigra: Okay then, make him ban me.
Habbo: Okay! HHAAAAAHA!11
Nigra: (5 minutes laetr) I'm still waiting...
---
As of right now, I am trying to find MODs from every country that has Habbo...
---
(changed group membership for User:BlackBro9001 from (none) to Epic Nigra: Have fun >:3)
HOLY SHIT I'M LIEK A GOD NOW. >:3
---
HOLY SHIT - As soon as I entered a room, MOD-SolidState banned me. And I wasn't even blocking! What a total racist!
---
IF I WANT A HABBOFAG BANNED, THEN GODDAMNIT, I'M GOING TO FIND A WAY TO GET HIM BANNED. Examples: AndrewCrogonk, peno321?.
Also (Habbo UK):
rambomboyo - Banned by MOD-Omega
rambomboyo2nd - Current, new account