hotjcard
From Pool's Closed Wiki
hotjcard, once labelled a member of the Habbofags was an ex-bacon, scammer, manipulator; plus, an anti-Nigra. At that, she was also a member of Deathday's Clique. She was an avid game player and rude stupid bitch who caused a young girl to kill herself. Shortly after, she was permed. She was revived in 2012 because she slept with Paul Lafontaine. hotjcard has been perky and flirtatious ever since. She is now, also, the owner of several anti-racism groups. She contracted aids while assisting the Nigras in forming the great SwastiGET on the July 12, 2012 raid. She was last seen playing Fierycold's: SURVIVAL OF THE FITTEST, and has brief appearances in the Welcome Lounge every now and then, joking with anyone she can.

Coverage
hotjcard spent her waking hours as a bacon marching around the hotel-she got into fights with VIP's who called her a bacon because she was so nooby that she didn't know she was bacon. She then bought VIP and acted like a slut so that guys could buy her more VIP and furni/coins. She made one guy called str8jeremy buy her a shitload of furni and credits then she lost them all in one day gambling at Admiral's casino and then broke up with and ignored the guy. hotjcard never made very many friends because she was so stupid and rude/unfriendly, and her avatar was Asian plus she was a cunt so she was the victim of racist comments. hotjcard also constantly got into catfights with other girls over things like outfit theft. During this dull period of her life hotjcard met a girl named Olivia or "Liv" as her Habbo was named and bullied her into suicide but never believe that liv really did it. hotjcard spent the rest of the year on the forums acting like a jcard and sticking up for Deathday's clique members. hotjcard was believe to be a satanist or at least a muslim.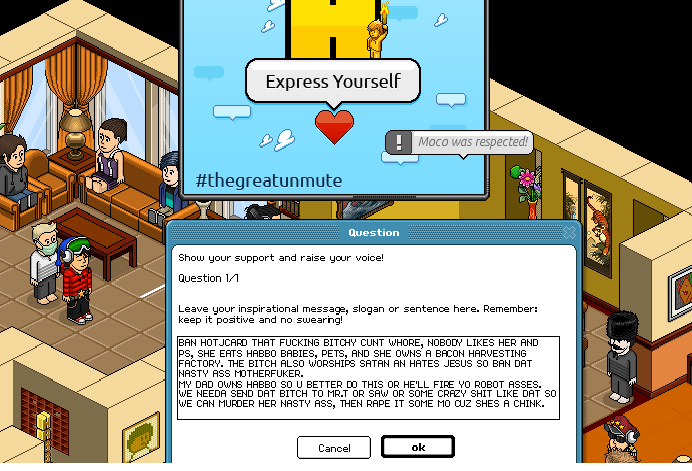 ---
hotjcard soon became a phrase due to the strangeness of the name and the term jcard came about.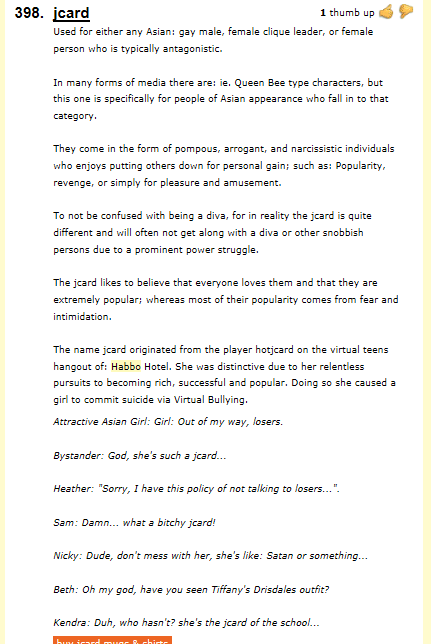 ---
hotjcard finally ran out of coins and lost her vip. she freaked out and quit. Later she came back and did the free coins offer. hotjcard became the owner of a powerful emo mafia and began trying to make her way to the top even though she was so far away from it. hotjcard joined habbo helpers and finally started making some friends. she met people like molf and fierycold and j-raviv, but they payed little attention to her dumb comments. hotjcard payed close attention to those who she thought were popular and tried to mimic them. Hotjcard later admits things like that she watches disney channel and claims that she is dating fierycold, and says that she is being stalked in real life trying to get more attention. hotjcard was desperate for something-ANYTHING so she became obsessed with the habbo helper track and made her way to the top. copying those whom she thought were cooler than her-hotjcard started cracking out jokes-even racist ones to herself for some attention. She then started trolling and became slightly more notorious on Habbo. She used clones to vote on things and cheated on everything. hotjcard finally reached the top of insanity and created a hate video about herself so desperate for fame. hotjcard began being written about on habbo blogs and helped the Nigras during the July 12, 2012 raid. There are claims that hotjcard had connections with the Nigras before the july 12 raid, but there is little evidence. Later on when the Nigras retreated to the hospital, hotjcard put on a prostitute costume and seduced the MOD's, male and female, to help the Nigras escape.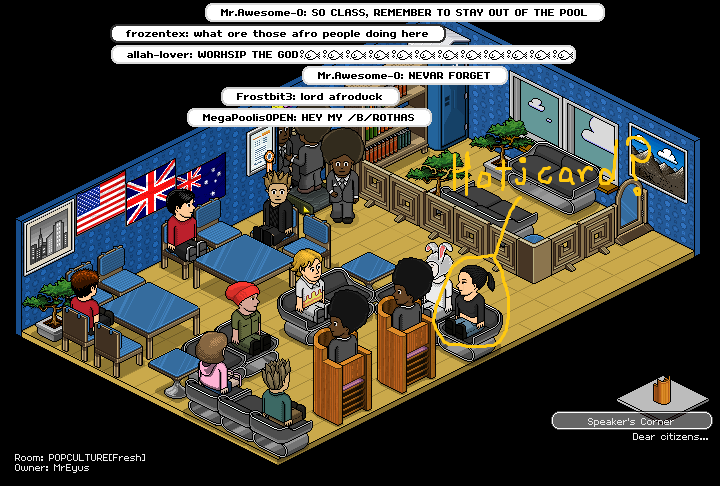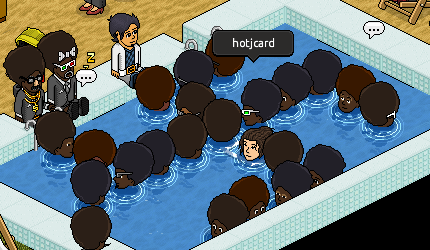 hotjcard began farting heavily all around the hotel after the summer of 2012 and started approaching strangers and starting conversation with them. hotjcard forgot all punctuation and good grammar during this time. Some thought she was high, some thought she was weird, and some wanted to gangbang her.
she began being liked by many and even warnered several youtube videos to be made about her.
---
During the time hotjcard was becoming a Habbo Helper, some pornographic images were made of hotjcard performing intimate tasks with famous Habbo's. Her most popular one is her lesbian threesome with Rabbit and Molf.

---
hotjcard was explaining to some friends about the naked pictures made about her and the Habbo auto perm detected the term "naked pictures" and banned her until 2023. hotjcard admits that she slept with Paul Lafontaine, CEO of Sulake to become unpermed.
---
hotjcard continues to try and act hilarious and make friends while remaining, as she calls it, "Philosophical" saying that she can do whatever she wants because it is "Philosophical" what she is doing. In this sense, hotjcard tries to marry every man she comes across. Her current plans are to convince habbo via the submit your idea button to add eyelashes to the asian females face.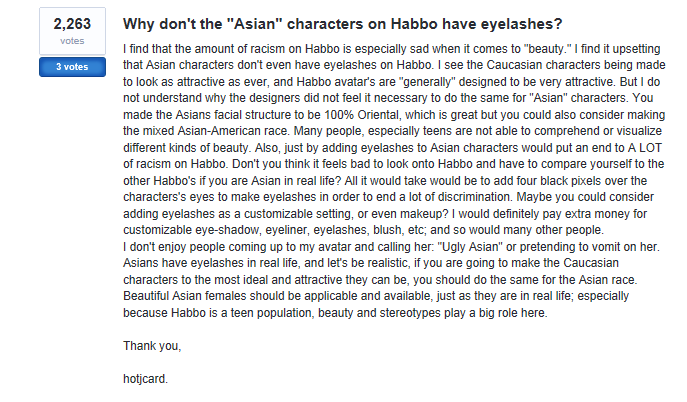 nobody knows how hotjcard got so many votes-some believe she slept with paul yet again. some claim that puffin was fired for telling hotjcard that she was an annoying whore who needs to shut up about virtual pixels. hotjcards current progress on the mission for eyelashes is unknown.

hotjcard's version of Martin Luther King's I have a dream speech, blasphemy in the name of the negro: 'Bold text
Martin Luther King's inspirational "I HAVE A DREAM" Speech translated to support the cause of Habbo's careless behaviour causing much discrimination. For hotjcard is on a mission for equality.
I HAVE A DREAM: I am happy to join with you today in what will go down in history as the greatest demonstration for freedom in the history of our Hotel. Thirteen score years ago, a great person(s), in whose symbolic shadow we stand today, decided to add Asians as an avatar option. This momentous decree came as a great beacon light of hope to many Asians and sympathizers who had been seared in the flames of withering injustice. It came as a joyous daybreak to end the long night of their disclusion. But thirteen years later, the Asian female is still is not free. Thirteen years later, the life of the Asian fenale is still sadly crippled by the manacles of segregation and the chains of discrimination. Thirteen years later, the Asian female lives on a lonely island of exile in the midst of a vast ocean of uneducated prosperity. Thirteen years later, the Asian fenalr is still languishing in the corners of Habbo society and finds him or herself an outsider in their own land. So we have come here today to dramatize a shameful condition. In a sense we have come to this Submit Your Idea category to cash a check. When the architects of equality wrote the magnificent words that Asians would be a part of this game they were signing a promissory note to which every American was to fall heir. This note was a promise that all men and women, yes, Asian men and women as well as white men and women, would be guaranteed the unalienable rights of life, liberty, and the pursuit of happiness. It is obvious today that Habbo has defaulted on this promissory note insofar as her citizens of slant are concerned. Instead of honoring this sacred obligation, America has given the Asian female a bad check, a check which has come back marked "insufficient funds." But we refuse to believe that the bank of justice is bankrupt. We refuse to believe that there are insufficient funds in the great vaults of opportunity of this Hotel. So we have come to cash this check -- a check that will give us upon demand the riches of freedom and the security of justice. We have also come to this hallowed spot to remind Habbo of the fierce urgency of now. This is no time to engage in the luxury of cooling off or to take the tranquilizing drug of gradualism. Now is the time to make real the promises of democracy. Now is the time to rise from the dark and desolate valley of segregation to the sunlit path of racial justice. Now is the time to lift our nation from the quick sands of racial injustice to the solid rock of brotherhood. Now is the time to make justice a reality for all of God's children. It would be fatal for the nation to overlook the urgency of the moment. This sweltering summer of the Asian's legitimate discontent will not pass until there is an invigorating autumn of freedom and equality. Two thousand-thirteen is not an end, but a beginning. Those who hope that the Asian female needed to blow off steam and will now be content will have a rude awakening if the Hotel returns to business as usual. There will be neither rest nor tranquility in Habbo until the Asian female is granted his or her rights. The whirlwinds of revolt will continue to shake the foundations of our hotel until the bright day of justice emerges. But there is something that I must say to my people who stand on the warm threshold which leads into the palace of justice. In the process of gaining our rightful place we must not be guilty of wrongful deeds. Let us not seek to satisfy our thirst for freedom by drinking from the cup of bitterness and hatred. We must forever conduct our struggle on the high plane of dignity and discipline. We must not allow our creative protest to degenerate into physical violence. Again and again we must rise to the majestic heights of meeting physical force with soul force. The marvelous new militancy which has engulfed the Asian community must not lead us to a distrust of all white people and black people, for many of our white or black brothers, as evidenced by their presence here today, have come to realize that their destiny is tied up with our destiny. They have come to realize that their freedom is inextricably bound to our freedom. We cannot walk alone. As we walk, we must make the pledge that we shall always march ahead. We cannot turn back. There are those who are asking the devotees of civil rights, "When will you be satisfied?" We can never be satisfied as long as the Asian female is the victim of the horrors of discrimination. We will never be satisfied if justice is not served. As long as our bodies, heavy with the fatigue of travel, cannot gain lodging in the hearts of other Habbo's and in the social groups. We cannot be satisfied as long as the Asian's basic mobility is from a face made incomparable to others lacking the eyelashes that belong to us. We can never be satisfied as long as our children are stripped of their selfhood and robbed of their dignity by signs stating "Asians Are Ugly." We cannot be satisfied as long as an Asian in Habbo cannot win a Kick The Ugly in a private room. No, no, we are not satisfied, and we will not be satisfied until justice rolls down like waters and righteousness like a mighty stream. I am not unmindful that some of you have come here out of great trials and tribulations. Some of you have come fresh from rooms you have been banned in. Some of you have come from areas where your quest for freedom left you battered by the storms of persecution and staggered by the winds of reversed beautification. You have been the veterans of creative suffering. Continue to work with the faith that unearned suffering is redemptive. Go back to the Chinese New Year rooms, go back to the Kick Fu Wars, go back to Battle Banzai, go back to Project Runway, go back to Sushi Restaurants, go back to the GNORK Federation and ghettos of our Furni lines, knowing that somehow this situation can and will be changed. Let us not wallow in the valley of despair. I say to you today, my friends, so even though we face the difficulties of today and tomorrow, I still have a dream. It is a dream deeply rooted in the American dream. I have a dream that one day this Hotel will rise up and live out the true meaning of its creed: "We hold these truths to be self-evident: that all men and women are created equal." I have a dream that one day on the red hills of game rooms the sons and daughters of former eyelashless Asian females and the sons of former discriminators will be able to sit down together at the table of brotherhood. I have a dream that one day even the Hotel of Habbo, a Hotel sweltering with the heat of injustice, sweltering with the heat of oppression, will be transformed into an oasis of freedom and justice. I have a dream that my two little eyes will one day live in a nation where they will not be judged by their shape or eyelashes but by the content of their character. I have a dream today. I have a dream that one day, down in Kick The Ugly, with its vicious racists, with its owners having their lips dripping with the words of interposition and nullification; one day right there in Kick The Ugly, little Asian girls will be able to join hands with little white boys and white girls and black boys and black girls as sisters and brothers. I have a dream today. I have a dream that one day every valley shall be exalted, every hill and mountain shall be made low, the rough places will be made plain, and the crooked places will be made straight, and the glory of the Lord shall be revealed, and all flesh shall see it together. This is our hope. This is the faith that I go back to the East with. With this faith we will be able to hew out of the mountain of despair a stone of hope. With this faith we will be able to transform the jangling discords of our Hotel into a beautiful symphony of brotherhood. With this faith we will be able to work together, to pray together, to struggle together, to get banned together, to stand up for freedom together, knowing that we will be free one day. This will be the day when all of God's children will be able to sing with a new meaning, "My Hotel, 'tis of thee, sweet land of liberty, of thee I sing. Help a stranger, gain a friend! Or two, or three. You never know who you're going to meet next!Let your creativity run wilder than a beaver in a log cabin! Push yourself to the limit in style and design- be the best!Play with friends, create your own games, kick ass and take names!Talk to your friends, get to know your fellow Habbos and meet loads of new friends... and more! ;)Build your own Furni empire by trading your way to the top!Flirt, Date, fall in love, and maybe meet that special someone... or something!? In the land of the Manager's pride, from every mountainside, let freedom ring." And if Habbo is to be a great Hotel this must become true. So let freedom ring from the prodigious diving board of Lido Deck B. Let freedom ring from the mighty hallways. Let freedom ring from the heightening Alleghenies of the rooftop cafe! Let freedom ring from the snowcapped Rockies of Habbo Sweden! Let freedom ring from the curvaceous slopes of Habbo Spain! But not only that; let freedom ring from Stone Mountain of Kick The Ugly! Let freedom ring from Lookout Mountain of the Wobble Squabble deck! Let freedom ring from every window and holo of Habbo. From every corner, let freedom ring. And when this happens, when we allow freedom to ring, when we let it ring from every private room and every public room, from every Hotel and every language, we will be able to speed up that day when all of God's children, black men and women, Asian women, white men and women, Jews and Gentiles, Protestants and Catholics, will be able to join hands and sing in the words of the old Asian spiritual, "Free at last! free at last! thank God Almighty, we are free at last!"