9-11-09
From Pool's Closed Wiki
It's September the eleventh soon, let's raid!
Current status: Ended
Short summary: Mostly FAIL, a few epic moments, too.
WHERE: Habbo US, pools, outside squares.
WHEN: UTC 17:00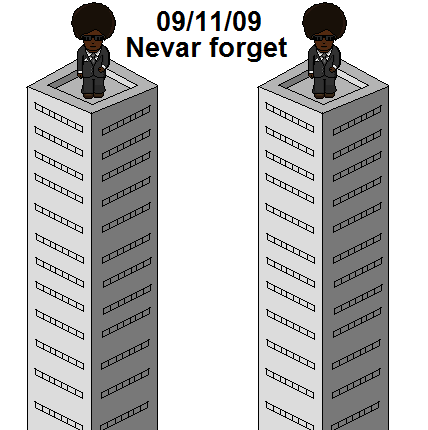 Goals
A SwastiGET
A CommuGET
An Afroduck (in both pools)
Spam WTC Inside Job propaganda, links to sites, etc. Also shock sites, of course.
Block shit?
???
PROFIT!
Strategy
ALWAYS dance. Except for the afroduck(s).
Register your nigra accounts BEFORE the raid day. The time specified is the time you should log in into habbo.
If your /b/rothers are suddenly disappearing, RUN LIKE HELL. Modfags are here.
If you arrive at the pool, and cannot enter (there's already a /b/lockade there), just go somewhere else where your nigra is needed. There'll never be too many nigras.
If you see a Swastiget forming, just don't stand like a dick. Help them! Follow the normal swastiget creating rules.
If some habbofag shouts about adding him on msn and/or cam, DO IT. Then troll the hell out of him (be a successful troll).
For maximum lulz and pwnage, use several nigras at once. To do this, use either the multilogin trick - search on YouTube for the guide - or just use several browsers (Firefox+Chrome+Opera combo will do. IE=Fail). Having even two nigras instead of one will double the blocking potential, and will also help with SwastiGETs. Some rooms are even blockable by just two-three nigras, so this is a way to get more black power from the same amount of raiders.
Use the older client - the new one is made of fail and habbofaggotry.
Use the raid tools. Do I really have to mention that? Still there are always some newfags trying to spam manually.
Wear the standard blackup as described on the appropriate pages. Sunglasses are optional. T-shirt = fail. Rainbow afro (or any color other from black/dark brown) = double fail.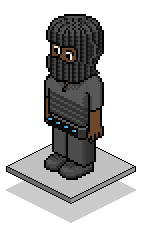 Misc
Rules 1 & 2 apply
Longcat is loooooooooooooooooooooong.
Log
Sep. 11, 21:45:29 UTC modfags b& lots of negros. How racist!